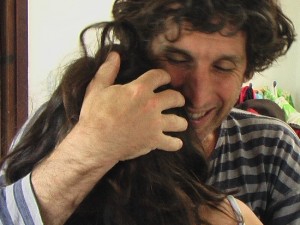 visit us at our new website
Shai Or is 52, is married and a father to 3 daughters. He was born on a kibbutz in Northern Israel, spent some time as a composer, and currently lives in Pardes Hanna, Israel.
For twenty years he has facilitated meetings with the goal of creating change in thought patterns and in life itself. He wrote a regular column, "A Different Look at the News", in the periodical "Different Lives," as well as other articles on parenting. He accompanies adults through their growth, teaches courses and workshops for parents and therapists. In the past few years he has promoted the "Miraculous Parenting" approach, which he began to study and develop in 2000, alongside the establishment of a school for children aged two and up called "Children of the Earth," which was—like the book—an attempt to connect children's development with their parents' development.